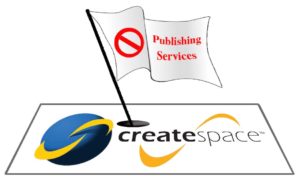 CreateSpace will no longer provide Publishing Support Services
Amazon's CreateSpace, the largest POD (print on demand) provider in the US, has thrown in the towel providing personalized services to authors.  For commodity items like socks and books, the gargantuan size of Amazon yields low prices and quick delivery. However, for customized services, such as book publishing, sometimes being the largest is not beneficial for their clients.  CreateSpace recently announced that they are downsizing their publishing support services office, so self-publishers will need to rely on companies, such as Publisher Services, for necessary services including; book formatting, cover design, upload assistance and book reviews.
An Amazon spokesperson told the Post and Courier: "After a thorough review of our service offerings, we've made the decision to discontinue Createspace's paid professional editing, design and marketing services."
Personal one-on-one publishing support assistance is differentiating element which separate Publishers Services from other self-publishing companies. Unlike other publishing companies who offer packages for over $1200, we provide self-publishers an a la carte array of book service so they only need to purchase the services they actually need.
Our initial relationship with CreateSpace began in 2007.  As the emerging giant in the growing print-on-demand book manufacturing, CreateSpace's internal proprietary system had rigid ISBN numbering requirements.  Publisher Services and CreateSpace came to an agreement provide their prospective clients the Publisher Package to satisfy their identification needs.
Just because an author is self-publishing doesn't mean they have to do it all alone.  Publisher Services provides personalized assistance and book services to enable self-publishers the ability to create professional high quality books. Please call Publisher Services at 800-662-0703 to speak with a self-publishing consultant.