Book Formatting

Professional Interior Book Formatting
250 Pages or Less
Print-ready layout is the most important key to a professional looking book. We refine your book to include the professional nuances of a high quality book formatting.
Services include:
Correction of extra white spaces
Paragraph indentations
Mixed fonts
Page numbering
Page margins
Page justifications
Page headers/footers
Chapter starts
Copyright page
Table of Contents
Book gutter
Proper order of front material and an updated Table of Contents
Formatting does not correct typos, misspellings, incorrect wording, incorrect punctuation, or other editorial issues.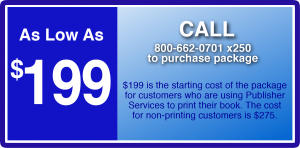 What to submit:
Final proofread manuscript file.
Microsoft Word files, separated by chapters.
ISBN number (not required). This will appear on your copyright page.