Whether you are an established or new author, you want to protect your content from plagiarism. It would be foolish to take a risk with a book you've worked hard creating and publishing. Since self-publishers are tasked with handling all aspects of publishing themselves, we wanted to provide guidance on exactly how authors can protect themselves and illustrate the components of their books copyright page.
Should a Self-Publisher Register Their Books with U.S. Copyright Office?
According to the Library of Congress, copyright protection extends to "original works of authorship including literary, dramatic, musical, and artistic works, such as poetry, novels, movies, songs, computer software and architecture."
Technically, as soon as you publish something, it is protected under US copyright law. Unfortunately, that protection doesn't have much teeth unless you go about registering your books with the U.S. Copyright Office. In the event you do need to involve the courts for a copyright infringement, US copyright registration is necessary. The US Copyright Office process takes between 3 and 12 months, so that is why most new self-publishers immediately register their copyrights before their books are actually published.
Note; there are additional legal benefits provided to copyright holders if they register within the first 3 months of publication. To learn more visit https://www.isbn-us.com/copyright-registration-2/ .
Copyright Page Formatting
The copyright page is a standard component for any type of book and is usually located on the verso (back) of the title page. Although there is no set format,  there are specific components commonly included on this page. Even the format alignment can vary from either right or center justified.
The copyright page can include some or all of the following information:
Copyright notice
ISBN
Rights and permissions
Disclaimer
Design, production, editing, illustration credits
Country of printing and source
Edition information
Publisher's address & website
Trademark notices
Author website
Environmental notices
Copyright notice
A page could not be called a copyright page if it did not include the necessary copyright notice. A copyright notice includes:
The copyright symbol (©) or the word "Copyright"
The year of a work is first published
If a book is reprinted into new editions, it is common to list all of the edition years. (© 2017, 2019, 2020 John Q. Smith)
The copyright holder's name or pen name (pseudonym).
If you do use a pseudonym, make sure you include both your real name and pseudonym when registering your copyright.
A sample copyright notice will look like this:
© 2020 John Q. Smith or Copyright 2020 John Q. Smith
Instructions for creating a copyright symbol (©);
On a Mac, hold down the 'Option' (or 'Alt') button + 'G'
On on a PC, hold down 'ALT' + '0169'
ISBN
An International Standard Book Number (ISBN) is a 13-digit numeric identifier that is used worldwide to identify books and book-type products. Retailers, distributors, marketplaces and libraries rely on unique ISBNs and the ISBN is commonly is commonly included on copyright pages.
Rights and permissions
The rights reserved notice states that the copyright holder (author) reserves all rights to reproduce the book or portions of the book. This phrase is technically no longer needed, as owning a copyright means that the author holds all the rights. It's still used in books as common practice and many publishers use phrases such as;
All rights reserved.
and
All rights reserved. No part of this publication may be reproduced, distributed, or transmitted in any form or by any means, including photocopying, recording, or other electronic or mechanical methods, without the prior written permission of the publisher, except in the case of brief quotations embodied in critical reviews and certain other noncommercial uses permitted by copyright law. For permission requests, contact [include publisher/author contact info].
Disclaimer
As a precaution to protect yourself from potential lawsuits if any of your characters or plot lines resemble real people or events, it is prudent to include a disclaimer such as;
This is a work of fiction. Any resemblance to actual events or persons, living or dead, is entirely coincidental.
Or
Portions of this book are works of fiction. Any references to historical events, real people, or real places are used fictitiously. Other names, characters, places and events are products of the author's imagination, and any resemblances to actual events or places or persons, living or dead, is entirely coincidental.
Disclaimers may also be used for nonfiction works. If you're writing a memoir, you may choose to include a disclaimer that simply states that the events in the book are your memories from your perspective. You may also include a notice that certain names have been changed to protect the identities of those involved.
It is always wise to consult an intellectual property attorney for guidance if you are concerned.
Credits to editors, photographers & Illustrators
Although credits are normally provided in a separate Acknowledgments section on many books, some publishers include them on the copyright page. This section is completely optional.
Country in which the book was printed & Source
For books printed outside of the US, you should include a line that states where the book was printed (i.e. Printed in China).  Some printing companies automatically add their name to this page as well. This is entirely optional.
Edition information
Even if the edition information is included on other pages (the title page, for instance), it is a good practice to also include it on your copyright page. The line of text only needs to state that that it is the First Edition, Second Edition, etc.
Publisher's address
Copyright pages typically include the name of the publisher and address.  If you are a self-publisher, this could either by your own information or a publishing company you create.
Trademark notice
Trademark notices for names and logos of the publishing company or its imprint might be included on a copyright page.
Author website
Self-promotion should be ongoing so it is very common for an author website URL to be on the copyright page.
Copyright Page Sample Formats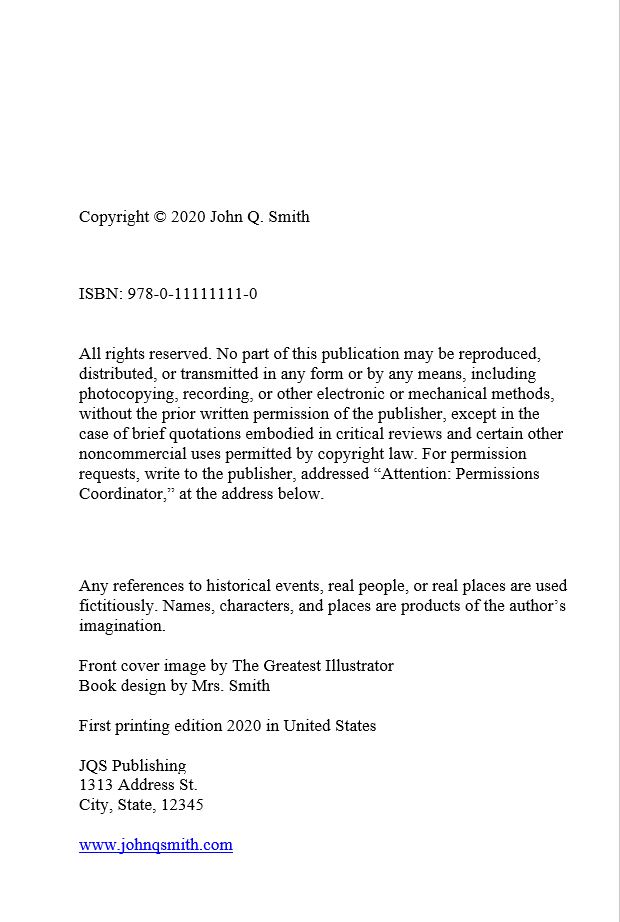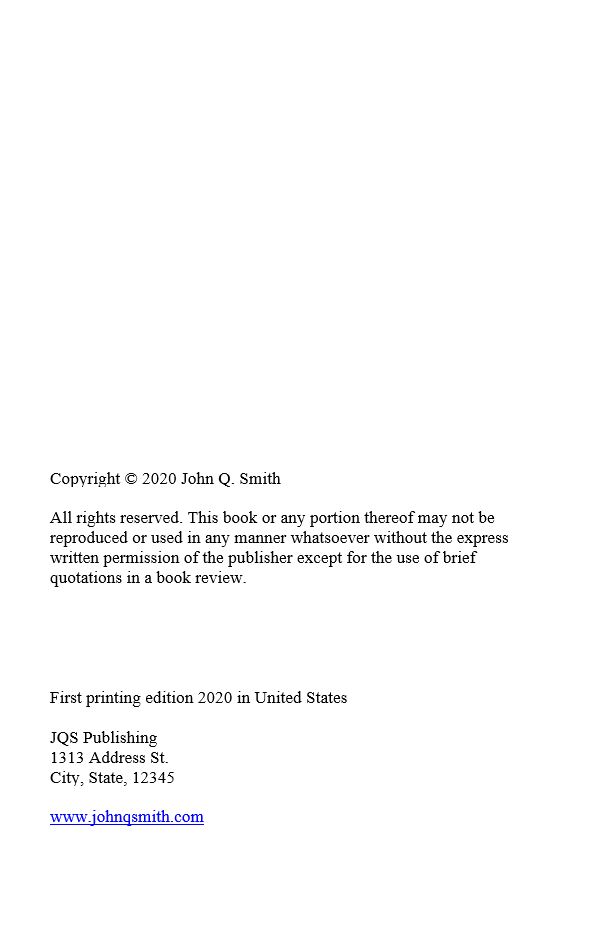 If you have any questions about how to format the copyright page, please contact one of our consultants for assistance at 800-662-0703 or emails us at pubserv@barcode-us.com.